Alex is a pundit, presenter and former professional footballer. Alex said: "I am absolutely buzzing to be signed up to Strictly. It's the show I've always wanted to do and I can't believe I'm finally going to be part of it. I'm super excited, but also terrified at the same time… The football pitch is a bit less glam than the ballroom, but I'm ready to try the sequins and dresses! Bring it on!"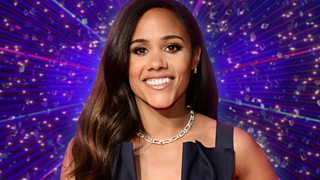 The former Arsenal Captain and Lioness is a well-regarded pundit for BBC and Sky Sports and a regular on BBC's Match of the Day. Alex signed with Arsenal aged eight and stayed with the team for most of her career. Alex helped the club achieve a domestic double of the FA Women's Cup and the FA Women's Premier League. She was also a key figure in the historic quadruple season for Arsenal in which they won all their trophy competitions. Alex then led the team as captain for the 2014/15 season.
While playing for England, Alex travelled the world playing football, also representing Great Britain in the 2016 Olympics in Rio. When she retired in 2017, Alex was the second most capped England player with 140 appearances. Since her retirement Alex has begun a successful broadcasting career. Alex is part of BBC Sport's football broadcasting team and has become a regular face for Sky Sports football coverage. Alex made history last August as the first female Sky Pundit on a Sky Sports' Super Sunday and made waves as a fresh addition to the BBC World Cup Commentary line up.