The government of Cyprus regrets the U.K.'s decision to leave the European Union and wants to help keep ties between the bloc and Britain as close as possible, Finance Minister Harris Georgiades said.
Cyprus, a former British colony, "is keen to participate in the negotiating process to ensure that the relationship between the EU and the U.K. is as strong as possible after Brexit," Georgiades said in an interview in Nicosia, the Cypriot capital. The eastern Mediterranean island isn't "demonstrating anxiety over the direct impact of Brexit on the Cypriot economy, but nor is it adopting an aggressively opportunistic stance," he said.
Some of the Brexit impact for Cyprus, which is mostly exposed to the U.K. through tourism, will be offset by trends like a longer season and changing target markets as the country attracts more tourists from other countries, according to Fitch Ratings.
U.K. visitors accounted for almost 37 percent of all tourists to Cyprus in the January-September period this year, down from 39 percent in the same months of 2015. Russian visitors accounted for around 26 percent, up from 21 percent, according to the Cyprus Statistical Service.
Investment Grade
While Fitch and Standard & Poor's both recently upgraded their sovereign ratings for Cyprus, the country is still ranked below investment grade by all major ratings companies, making its bonds ineligible for European Central Bank asset purchases after the country exited its bailout program in March.  Without a waiver, which the ECB will only allow in conjunction with a program, lenders can't pledge Cypriot government securities as collateral for access to the ECB's regular financing lines.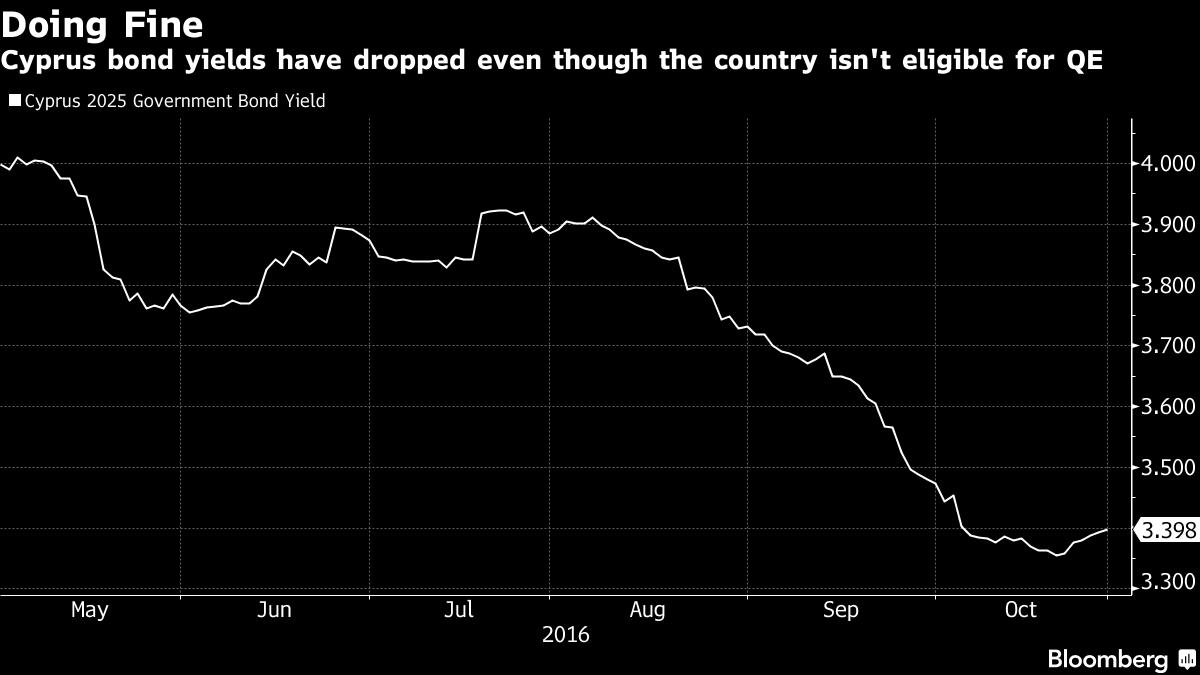 Cyprus has come a long way since the height of the crisis in March 2013, when a haircut on deposits was imposed, Georgiades said. The country regained market access in 2014 and its economy began to expand in 2015 after three years of recession, and it's expected to register one of the highest growth rates in the EU in 2016, with an essentially balanced budget and a significantly stronger banking sector, he said.
Because the country is committed to more reforms in public administration, local government, health care, investment and pension funds, "we're confident further upgrades will come, delivering investment grade soon enough," Georgiades said.
After selling 1 billion euros ($1.09 billion) of its seven-year bonds in July, the country's first venture into the international debt market since exiting the bailout, Cyprus isn't "imminently planning another move, but will remain ready to make the most of market opportunities," Georgiades said.
While the main benefits of reunification could come in the medium to long-term, "we're working with the International Monetary Fund, the World Bank and other institutions to ensure that even in the short term, there will be economic arrangements that are supportive of the growth and opportunities that will emerge," Georgiades said